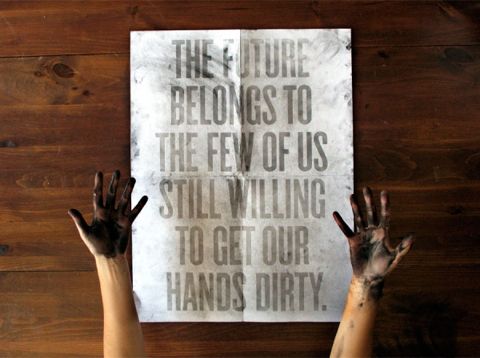 The Challenge:
Our 4th and 5th grades (12 classrooms, 230+ some students and 17+ teachers and specialists) want to start a single school newspaper.  They are requesting an online work-flow allowing students to write but not publish, teachers to approve and publish.  The look and feel should be of a newspaper, not a blog.  They at first want to print the paper to distribute to students and families, rather than it being an online publication.
Draft Solution:
We can use the work flow process provided by the blogging software WordPress. Students would be given the role of "contributors" and 20 teachers and specialists "editors" or "administrators." We could use a newspaper looking theme (14 different options can be perused here.) The newspaper could be viewed online or printed out and distributed.
To Publish Online or Not Online:
The 5th grade does a long-form research and publishing project each year which employs all sorts of social and publishing mediums such as blogs and wikis.
We have an Internet Security Protocol which has three components:
1)Don't provide any personal details (name, school, county, state, country).
2)Don't allow any incoming communication channels (no comments or text surveys) the only exception being radio button surveys.
3)And we tell students, "Never meet anyone in real life you only met online."
Thus having students work in a "live" online environment is not a stretch.  Research two years ago found a majority of 4th grade students were actively publishing online (Facebook, MySpace) on their non-school time and equipment.
However, most of the teachers engaged in this project are viewing this as a traditional printed newspaper.  They seek to print the document and distribute a printed version.  This provides another layer of security because nothing will go out unless it is printed and copied multiple times.
| Solution | Pro/Con | Considerations |
| --- | --- | --- |
| Blackboard | Pros | Blackboard is relatively un-hackable from outside the school system, could be used to assemble newspaper for printing, available via home both for student editorial work and family viewing, it is completely backed up. |
| Blackboard | Cons | Blackboard provides no workflow for assembling such a large newspaper publishing venture, it is cumbersome and clunky to use, most families have a hard time navigating into blackboard, multimedia and publishing features limited.  Blogging and Wiki features disabled for family viewing. |
| WordPress Inside Firewall | Pros | WordPress provides solid online work-flow for supporting large newspaper publishing venture. Behind the firewall it would not be viewable to anyone allowing students to write freely using their names, school name and other identifying information. |
| WordPress Inside Firewall | Cons | WordPress behind the firewall, students could NOT access from home to add items, if in the future the requirements change this installation would never be able to be seen outside the firewall, backups would be dodgy.  Initial investment would include a high-end desktop and backup system. |
| WordPress Outside the Firewall | Pros | The service would be fully redundant and backed up on a nightly basis, it would provide robust work-flow and be accessible online for student editing and family viewing. Newspaper could be both printed and seen online.  No setup or ongoing maintenance costs. |
| WordPress Outside the Firewall | Cons | The online newspaper would be viewable to everyone requiring use of Internet Safety publishing protocol like the 5th grade uses for other publishing. |
Summary:
1)Blackboard is difficult to use and has none of the work-flow needed for this large-scale project.  Blackboard forces students to have their name or student id number on everything they publish (which in violation of our safety practices).  The blog and wiki elements of Blackboard are not viewable by families.
2)Wordpress is a solid solution from a work-flow standpoint and allows teacher and different groups of students to have different roles in the editorial process.
3)Installing WordPress inside the firewall will make it more secure in the short-term to make sure nothing is published without being scrutinized by a teacher.  It gives teachers, especially those with no blogging experience, more comfort to know nothing will go out that is not printed first.
4)However WordPress inside the firewall is not future proof.  It doesn't allow for a change of heart which would allow for the paper to be published online.  This option of online publishing is one all real newspapers are now engaged.  The backup of data on an internally running installation of WordPress would be dodgy.
5)Wordpress outside the firewall has all the benefits of WordPress inside the firewall and allows for future proofing in several ways:
a)It allows students to access the newspaper's editorial features from anywhere.
b)It allows the published items to be viewed by anyone anywhere.
c)It requires students adhere to online safety publishing guidelines listed above.  Students could use pen names and the school's nickname could be used in lieu of the school name.  Everything else could be open.
We will be thinking on this over the next few weeks with the teams in question.