Former Assistant Secretary of Education Diane Ravitch is a thinker and writer about Education without any need for reelection or selling standardized testing or programs to help student pass standardized tests.
She speaks the truth to the motley crew of Education (and I do use that term loosely) experts. The dialog going on in Washington between the Democrats and Republicans is ludicrous, and Diane debunks the foundations on which it is based, item by item, in a research-based, data-driven way.
Every teacher should take the time to watch this video. Take notes. These are our talking points in the war of ideas taking place in Education policy. These are our marching orders.
I've become a big fan of Diane Ravitch. Expect to hear more from her.
Fast Forward through the first 10 minutes of introductions, and start listening when you see Ravitch.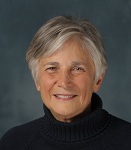 Diane Ravitch
New York University
82 Washington Square East
New York, New York 10003
E-mail: gardendr@gmail.com
Diane Ravitch, The Death and Life of the Great American School System: How Testing and Choice Are Undermining Education (New York: Basic Books, 2010).
Buy/read more about this book:
Amazon.com